A few months ago I shared with you
the books
that have helped me along in my journey to learn how to sew. Here are some tools that I use everyday and are super helpful!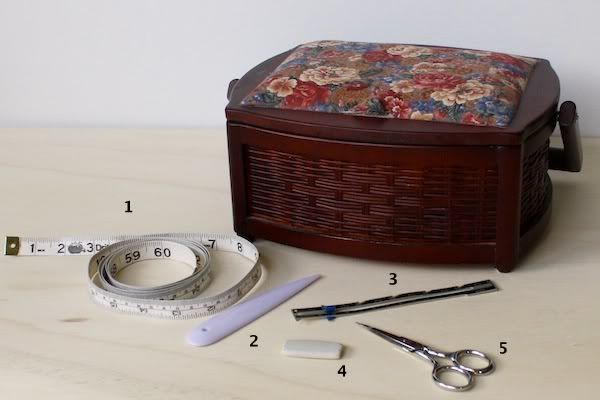 1) Measuring Tape - My bread and butter. I always have this guy around my neck. Measurement is
essential
when sewing. My boyfriend always says the difference between a good carpenter and a bad carpenter is an 1/8 inch. Same is true for a seamstress!
Measure twice, cut once!
2) Bone Folder: You can use this tool for a lot of crafts. It helps me stick out corners and open seams that need to be pressed.
3) Sewing Gauge: This is great for small measurements and I use when marking fabric. I use this tool
all the time
[and always set it down somewhere I can't find it]!
4) Tailors Chalk: I use to mark all my patterns after I cut.
5)Embroidery Scissors: For a while I was just using one pair of sewing scissors. Now I keep these by my machine to cut thread. They are a lot easier to manage and are perfect to cut small slits [like when creating interior zipper pockets].
Do you sew? What tools do you use?
Don't forget to enter
my giveaway
!
Ends 11/28